Can I Complete A Degree From A Full-time College While Working Full-time In India?
Crores of Indian citizens prefer to start working before completion of their graduation to support their families. Further, they get married, family is expanded. Responsibilities and expenditures increased. But no career growth thereby no job promotion or salary increment. The reason is a lack of graduation. There is a divide in opinion on this. But the majority of sufferers know why they were denied the increment or job promotion.
On the other hand, many private big recruiting houses have a negative opinion on Open University degrees. So here candidates like you have a big question - How can I complete a degree from a full-time college while working full-time?.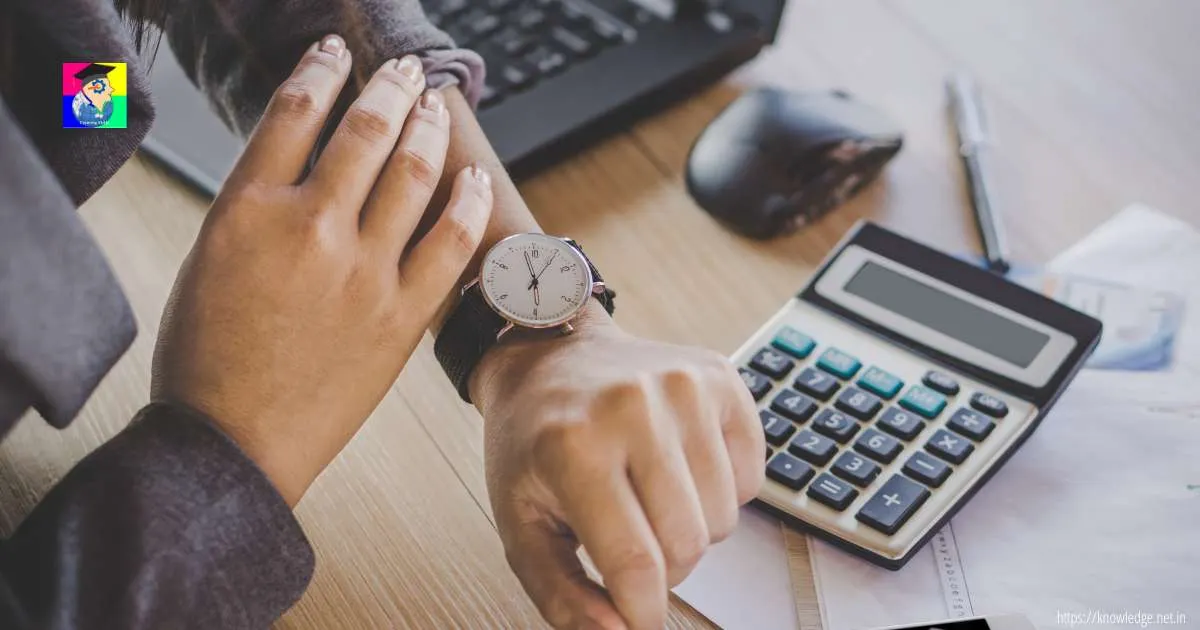 Attending full-time college and giving 100% to your full-time job is challenging. But that doesn't mean it can't be done. After speaking to many successful candidates and experts I have concluded that working full-time while earning a full-time degree is possible and you may achieve your ultimate goal of CAREER GROWTH successfully. I have drafted 3 tip plans for you and, I'm sure they will help you to complete your full-time degree while working full-time.
TIP 1 # TAKE FULL ADVANTAGE OF YOUR TRAVEL TIME
Due to the pandemic, many of you may be working from home. It's not permanent. Soon you will be resuming your travelling if you are residing in Mumbai, Suburban, Thane, or Navi Mumbai you probably have a commute to work by a local train or a bus. Most of you invest 2 to 6 hours travelling daily, with some driving to reach the office. Your commute time is perfect for getting some studying done. Some simple ways to do this are:
i. Chose a full-time college or university near your home or workplace, offering evening, weekend, or shift-wise classes. Ensure that, you must be able to fulfill the minimum attendance criteria drafted by the college. Usually, it's 60 to 75% depending upon the nature of the course and credits. College near home or workplace will help you to complete your degree successfully. If college is neither near to office nor residence, then seriously think to shift your residence or you may find a job near a college.
ii. If travelling by bus or local, read notes- While studying at home, prepare flashcards or notes based on the syllabus. If you are struggling to summarise the notes, take some short classes on 'How to study' available online. Read those flashcards during travel. Ensure that your commute time is not wasted in non-productive readings on mobile, newspapers, or chatting with co-travellers.
iii. If driving daily to reach the office- you may download your subject audiobooks and listen to them. If audiobooks are not available, record the chapters in your voice and listen to them while driving.
To conclude, you may find out somebody who is working full-time and also pursuing a degree from a full-time college. Discuss with him or her the probable challenges while attending both the college and the work they have faced. Also, discuss on time management tricks they used.
Before enrolling your candidature in college, ensure that your manager knows about your further studies. Never forget the purpose of completing a degree. You are going to submit the degree to your employer and you expect career growth in return. You may seek a job change also. Ensure that the degree and college or university are valid and accepted by your employer or any other recruiter. Your immediate manager or HRD manager may guide you on this concern. Hence here is tip number 2...
TIP 2 # KEEP YOUR BOSS IN THE LOOP
Unless you happen to be your own boss, you'll need to keep your manager updated on your study schedule. Most managers will be supportive of your efforts as long as you keep them up to date on your comings and goings. Make sure to inform your immediate supervisor or boss -
i. If you need any particular times off for study
ii. If you'll be coming in early or late to make up for time off
iii. If there will be any possible disruptions to your work schedule
When I was working, I remember that I successfully kept my HRD Boss Mr. Subodh Chandra Vagal, The Then-Vice President, in the loop While completing my MBA. Even I requested him to be my guide for my major project and he accepted the request. Further, in 1999 during an event in a college, I requested another HRD boss, Mr. Prashant Ahir, to participate and guide all management aspirant candidates who were working and struggling to complete their MBA. In his presentation at Birla College, Kalyan predicted on downsizing of Industries post-2K. And after 23 years, the downsizing is a reality - the prediction made by this genius from IIM alumni was so true. It was an honour for us that he accepted our request and delivered his thought on management practices beyond the year 2000. I would like to recommend you always keep your bosses in the loop whenever you are upgrading your qualification. It helps you, your college, and your batchmates too!
Once your boss is convinced your responsibility starts here. It's action time. To complete the selected course successfully, you need to plan your work-life-college balance. For that follow tip number 3 ...
TIP 3 # UTILIZE PROVEN PRODUCTIVITY METHOD - THE EISENHOWER MATRIX
While making more research on time management, I came across the blog written by Eisenhower.me. The Eisenhower Matrix, also referred to as Urgent-Important Matrix, helps you decide on and prioritize tasks by urgency and importance, sorting out less urgent and important tasks which you should either delegate or not do at all. The matrix has 4 quadrants.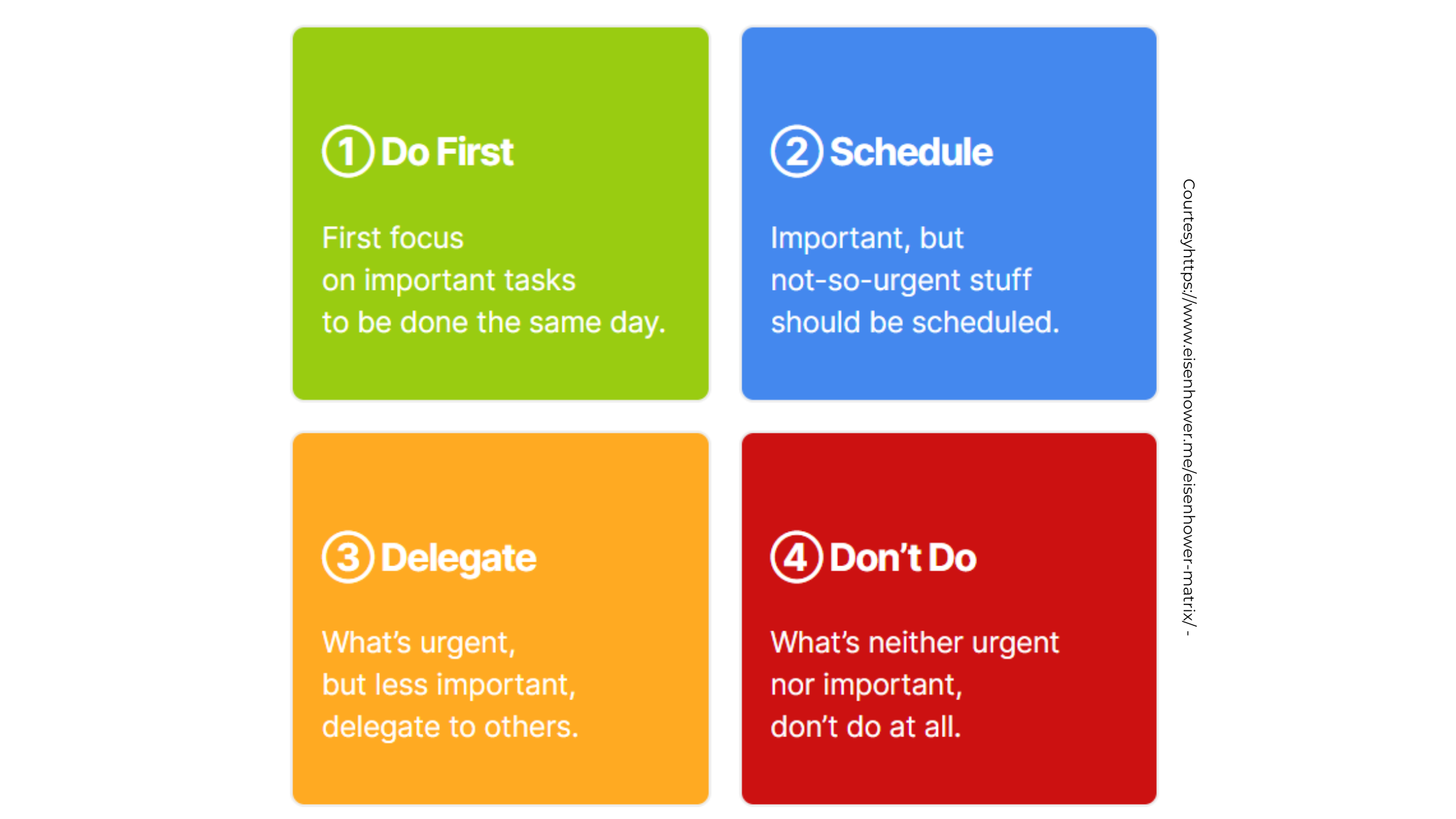 Qd 1 # Urgent & important - Do first - First focus on important tasks to be done the same day
Qd 2 # Important but not urgent - Schedule... Important, but not-so-urgent stuff should be scheduled.
Qd 3 # Not Important but urgent - Delegate ... What's urgent, but less important, delegate to others
Qd 4 # Not Important not urgent - Don't do it - What's neither urgent nor important, don't do at all
Dwight D. Eisenhower was the 34th President of the United States from 1953 until 1961. Before becoming President, he served as a general in the United States Army and as the Allied Forces Supreme Commander during World War II. He also later became NATO's first supreme commander.
Dwight had to make tough decisions continuously about which of the many tasks he should focus on each day. This finally led him to invent the world-famous Eisenhower principle, which today helps us prioritize by urgency and importance.
You need to sacrifice unproductive tasks by using Eisenhower Matrix. Plan your day, plan your week plan your month and semester. Remember, this challenging schedule is not forever. Convince your family and get the help of all your family members to achieve your goal of a degree from full-time college while working full-time by following 3 principles
1 # TAKE FULL ADVANTAGE OF YOUR COMMUTE AND REVISE YOUR STUDY
2 # KEEP YOUR BOSS IN THE LOOP
3 # UTILIZE PROVEN PRODUCTIVITY METHOD - THE EISENHOWER MATRIX
Follow every tip given above to complete your degree from full-time college while working full-time.
Powerful Resource to implement Eisenhower Matrix - https://keep.google.com
Listen to our podcast below and do you may comment below on your takeaway from this blog. We wish you a successful career-